American Education Week presents everyone with an opportunity to celebrate public education and honor individuals who are making a difference in ensuring that every student receives a quality education. We are all in this together, teachers, administrators, supervisors, nurses, cafeteria workers, custodians, bus drivers, principals, and school psychologists.
Celebrate American Education Week with your friends and colleagues by sharing our official artwork on your social media channels. 
American Education Week happens the week prior to the week of Thanksgiving. Each day of the week has its own theme, during which we celebrate our public school community.

Festivities honor the team of people who work in our nation's public schools, everyone from the bus driver and classroom teacher to the cafeteria worker and administrative staff, plus countless others.

Celebrate AEW on social media by sharing our official artwork or find more free appreciation offers and ideas below:
Free Coffee at Starbucks for Educators

Celebrate with us! PGCEA has partnered with Starbucks to thank our educators during American Education Week 2020. They will provide free coffee to all educators who present their PGCPS ID at Prince George's County Starbucks locations. The 4 participating locations are:
Location 1: 9100 Alaking Ct Unit 100, Capitol Heights, MD 20743
Phone Number: (301) 336-0289
Location 2: 10621 Martin Luther King Jr Hwy, Bowie, MD 20720
Phone Number: 301-352-7746 
Location 3: 3601 East-West Hwy, Hyattsville, MD 20782
Phone Number: 301-985-5244 
Location 4: 9350 Taj Ln, 20, Lanham, MD 20706
Phone Number: 301-386-6118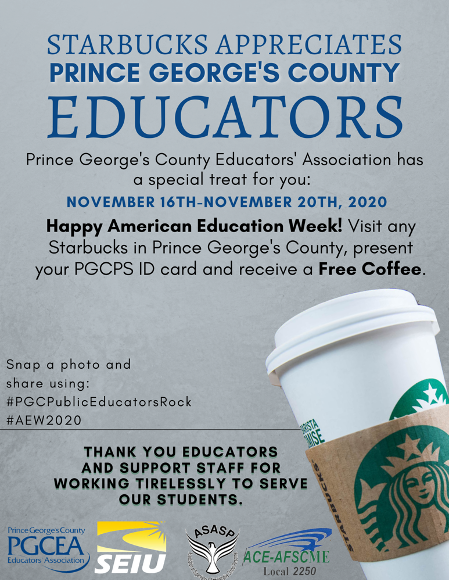 Receive Free Appetizer from Texas Roadhouse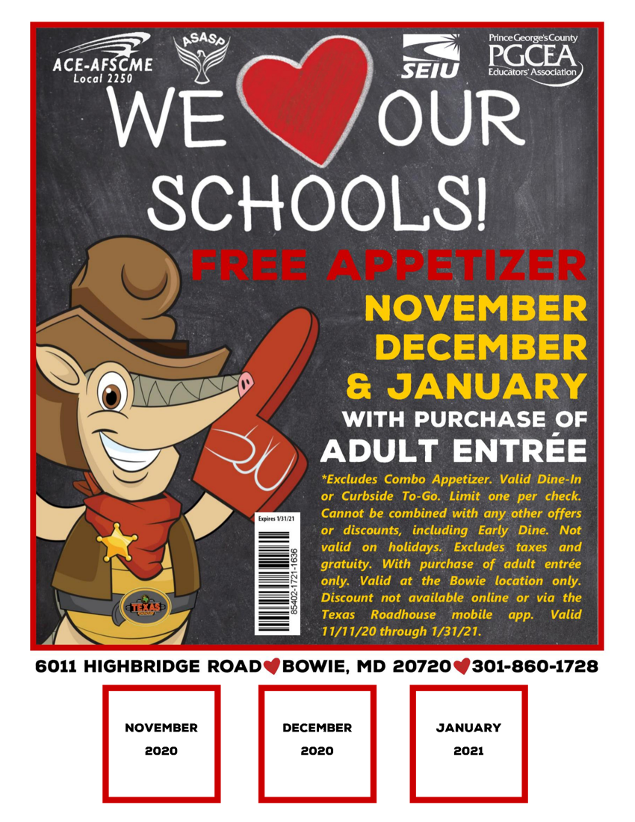 Record a Video Thanking Educators
Take a moment to record a video thanking educators or recognizing why you believe being an educator or support staff is important. You can find instructions on recording the video here as well as a guide script/outline for elected officials, parents and students here.
Take a photo
Share a photo of why you are proud to be a part of educating our students, if you are a parent why you are appreciative of our educators and support staff, and if you are a student why you are thankful for educators it's easy as 1, 2, 3:
1.    Print out this graphic
2.    Write why you are proud
3.    Take a photo and share it using the hashtag #PGCAEW2020
WEDNESDAY, NOVEMBER 18: EDUCATION SUPPORT PROFESSIONALS DAY
Education Support Professionals Day was first celebrated in 1987 after NEA's Representative Assembly, the Association's decision-making body of nearly 8,000 member delegates, called on the organization to honor the contributions of all school support staff inclusive of supervisors, principals, nurses, cafeteria workers, bus drivers, custodians, and school psychologists. . National ESP Day is observed on Wednesday of American Education Week.
This year we have seen ESPs go well beyond anything we have seen before as they work to meet the needs of our school communities in the midst of a pandemic. On ESP Day, join us to honor and advocate for the ESPs who continue keeping students safe, healthy, and ready to learn.
Ideas for celebrating:
●     Host a virtual appreciation event for ESPs in your school or district using a video conferencing platform. Share photos (or screenshots) of the event on social media.
●     Arrange a safe food or gift delivery for ESPs in your school or district.
●     Encourage teachers, students, and parents to mail or email a thank you letter to ESPs in their schools.
●     Give a social media shout out to ESPs who have been going above and beyond to help school communities during this pandemic. You can get creative through photos, videos, and more! Use #WeLoveOurESPs in your posts.


THURSDAY, NOVEMBER 19: EDUCATOR FOR A DAY
Normally community leaders would be invited to experience the day as educators and experience the challenges of teaching and the needs of students, with the guidance of school employees.
The visiting educator would perform all the duties of a regular school employee in a normal work day—teaching class, performing lunch and corridor duty, recess supervision, working in the cafeteria, among other responsibilities.
The program, originally developed by the Massachusetts Teachers Association, enhances understanding among educators and community leaders. In addition, it demonstrates to public officials and other decisionmakers, the successes and challenges our educators face and underscores the need for adequate staffing, materials, and facilities for students.
This year, having community members come into the classroom is not an option for many schools as they implement their distance-learning or building reopening plans. However, educators can be creative about marking the day in other ways.
Ideas for Celebrating
●     Invite members of the community virtually into your classroom via video call to read to students, talk about their career, or share other educational information outside the normal curriculum.
●     Ask students to dress as if they were in their future career and talk about that profession's role in the community.


FRIDAY, NOVEMBER 20: SUBSTITUTE EDUCATORS DAY
Substitute educators play a vital role in the maintenance and continuity of daily education.
Substitute Educators Day is a result of the National Education Association Representative Assembly's New Business Item 2003-41, which called for an increase appreciation of school substitute employees. These professional educators provide a critical link in the education of public schoolchildren by serving as a bridge to provide continued quality education to children in the temporary absence of regular classroom educators.
Substitute Educators Day seeks to:
●     Encourage increased respect for substitute education employees
●     Advocate for all school substitutes to receive wage and health benefits for those who work most to all of a full school year
●     Receive genuine, continual professional development in the art of substitute teaching
●     Provide a reminder for school staff on effective practices to prepare for, welcome, and support substitute educators
Substitute Educators Day is observed on Friday during American Education Week.
Ideas for Celebrating
●     Arrange a schoolwide recognition of substitute educators in the read-aloud school bulletin, or on the intercom announcements.